Open Minds would like to give a shout-out to bestselling author Cass R. Sunstein and his new book, Conformity.
In the book, "Sunstein argues that the key to making sense of living in this fractured world lies in understanding the idea of conformity―what it is and how it works―as well as the countervailing force of dissent.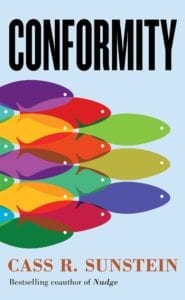 "An understanding of conformity sheds new light on many issues confronting us today: the role of social media, the rise of fake news, the growth of authoritarianism, the success of Donald Trump, the functions of free speech, debates over immigration and the Supreme Court, and much more.
"Lacking information of our own and seeking the good opinion of others, we often follow the crowd, but Sunstein shows that when individuals suppress their own instincts about what is true and what is right, it can lead to significant social harm.
"While dissenters tend to be seen as selfish individualists, dissent is actually an important means of correcting the natural human tendency toward conformity and has enormous social benefits in reducing extremism, encouraging critical thinking, and protecting freedom itself."
For a great review of this must-read book, please check out Ira Chaleff's post at https://www.nyjournalofbooks.com/book-review/conformity