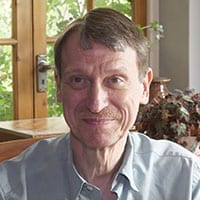 Nottingham
United Kingdom

Jon Atack
Director of Projects and Managing Editor
Jon grew up in the heart of England. He was 19 when he was lured into Scientology. Jon was never a live-in member, but took 25 of the 28 "levels" of that system before leaving when he learned of the cult's criminal practices and was told to disconnect from a friend.
For a dozen years, Jon helped former members and consulted with the media, litigants and government agencies around the world. He has spoken with about 600 former members, worked on more than 200 media stories and consulted to more than 150 court cases. He was recognized as an expert witness on Scientology by the High Court in London in 1987. His work was acknowledged in a declaration by forty academics at a 1995 conference.
Jon published the first factual history of Scientology in 1990. It was an Amazon best seller and was republished as Let's sell these people A Piece of Blue Sky in 2013. Jon has also written tens of articles and papers, and two other shorter books about Scientology.
In 1993, Jon became president of the non-profit Fight Against Coercive Tactics Network (FACTNet), the first on-line database for information on manipulation and totalist cults. He withdrew from cult-related work in 1996, to focus on research into manipulation and undue influence. That research became the basis for the Open Minds Foundation, a multidisciplinary approach to psychological exploitation in all its many forms. In 2013, Jon revisited Scientology with an occasional blog at Tony Ortega's Underground Bunker. Most of his blogs there are about recovery from the after-effects of cult involvement.
In June 2015, Jon co-hosted the Getting Clear conference in Toronto, with Professor James Beverley. This was the first attempt to fully deconstruct a contemporary cult group with the true biography of the founder, a history of the group and a thorough examination of the techniques. Jon's latest book, Opening Minds: The Secret World of Manipulation, Undue Influence and Brainwashing, was released at the end of 2015.
Books by Jon Atack
Posts by Jon Atack